Helena Sinervo (FIN)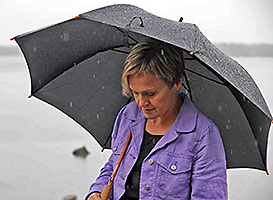 *1961 in Tampere. Sie studierte Musik und Literaturwissenschaften und war als Klavierlehrerin tätig.
2014 erschien der Gedichtband "Avaruusruusuja (Raumrosen)". "Ihmisen kaltainen (Menschenähnlich", 2000 und "Väärän lajin laulut (Lieder falscher Art)", 2010 erhielten die 'Dancing Bear' Auszeichnung.
Ihre Gedichte sind in 25 Sprachen übersetzt, sie selbst überstzt in das Finnische Werke u.a. von Elizabeth Bishop, Yves Bonnefoy. Ihr erster Roman "Runoilijan talossa (Im Haus der Dichterin"), 2004, gewann den Finlandia Preis.
Die Herbststege deines Blicks, die schwarzschimmernden Wimpelpimpfchen,
wie sie schon flattern , als sei's der Augenblick des Abschiednehmens.
Ich bin unterwegs Richtung Versenkung, bin unterwegs 
zwischen den x-, y- und z- Achsen, im Weltraum             
*1961 in Tampere, Finland. She studied music and literature.
Sinervo has published ten collections of poems, two novels, and some books for children. "Avaruusruusuja (Spaceroses"), 2014 is her latest poetry book."Ihmisen kaltainen (Like a Human Being"), 2000 and "Väärän lajin laulut (Songs of the Wrong Species") 2010 won the Dancing Bear Awar'.
Her poems are translated into 25 languages, and she herself is a translator of Elizabeth Bishop, Yves Bonnefoy and many others. Sinervo's first novel "Runoilijan talossa (In a Poet's House"), 2004, won the Finlandia Prize.