María Reimóndez (Galizien)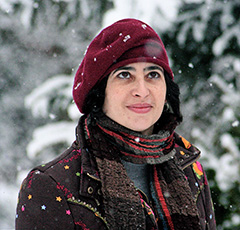 * 1975 in Lugo in Galizien, arbeitet als Übersetzerin, Schriftstellerin und Aktivistin. Für ihre Übersetzung von "The History of Mary Prince: A West Indian Slave" erhielt sie den Plácido Castro Preis für Galizische Übersetzungen 2009.
Neben Romanen, Dokumentationen, Essays und Kinderbüchern erschienen von ihr die Gedichtsammlungen "Moda Galega" (2002) und "Presente continuo" (2013), "kleinigkeiten" (auf Deutsch im Eigenverlag, auf Galizisch als "cousiñas/ kleinigkeiten" bei Fabulatorio 2013).
1998 gründete María die galizische NGO "Implicadas no Desenvolvemento", die sich gemeinsam mit indischen und äthiopischen Frauen gegen Kapitalismus und Neoimperialismus und für Frauennetzwerke engagiert.
tantas linguas
fican agochadas baixo as túas árbores
nos recunchos miúdos dos teus calellos
nas fontes que fican tapadas con madeira no inverno.
buscan un lugar
un espazo entre declinacións
e verbos separables
pero fican aí.
ficamos aí.

so viele sprachen
verstecken sich unter deinen bäumen
in den kleinen ecken deiner gassen
und den brunnen, die man mit holz im winter bedeckt.
sie suchen einen platz
einen ort zwischen deklinationen und
trennbaren verben
aber sie sind da.
wir sind da.
*1975 in Lugo in Galicia. She is a feminist translator, writer and activist. The topic of her dissertation is "Translation of feminist and postcolonial texts". Since eleven years, she is working on translations and interpretations from English into Galician language. For the translation of "The History of Mary Prince: A West Indian Slave" she was awarded the Plácido Castro prize for Galician translations 2009.

The extensive work of María includes novels, documentaries, essays and children's books and the poetry collection "Moda Galega" (2002).

In 1998, María founded a Galician NGO called Implicadas no Desenvolvemento that works together with Indian and Ethiopian women against capitalism and neo-imperialism and supports women's networks. She promotes Tamil and Galician poetesses. She lectured in Heidelberg, Liverpool, London, Birmingham, Bangor, Munich and Warsaw and advises the German NGO Kindernothilfe (Children's in Need).