Anna Breitenbach (D)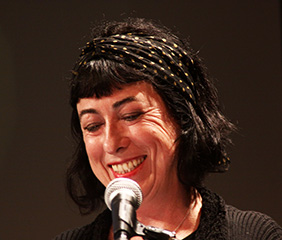 *1952 bei Bebra/Hessen, lebt in Esslingen am Neckar und Elmo/Italien.
Studium der Germanistik und Politik-wissenschaft in Göttingen und Tübingen.
Arbeiten als Reporterin und Autorin für den SDR Stuttgart; ab 2005 Konzeption und Redaktion der Reihe "Frische Gedichte" im Feuilleton der Eßlinger Zeitung,
Zahlreiche Performances, Installationen, poetische Kalender und Ausstellungen, ab 2009 Slam Poetry.

Wie ich auch renne und
rase, den Feldvorteil hat
der Hase!
* 1952 Bebra / Hessen, lives in Esslingen and Elmo / Italy. Studied German and Political Science in Göttingen and Tübingen. Working as a reporter and writer for the SDR Stuttgart. Since 2005 responsible for the series "Fresh Poems" in the feuilleton of Esslinger Zeitung.
Numerous performances, installations, exhibitions and poetic calendars, since 2009 slam poetry.