Karin Fellner (D)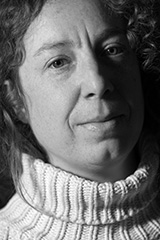 *1970 in München, studierte Literaturwissenschaften, arbeitet heute als Autorin, Schreibcoach und Übersetzerin.
Mehrere Auszeichnungen für ihre Lyrik, u.a. 2012 den Medienpreis beim Lyrikpreis Meran.
Bislang erschienen drei Einzelbände mit Gedichten, zuletzt "hangab zur kehle", yedermann Verlag, München 2010.
Im Januar 2015 erscheint der 4. Einzelband "Ohne Kosmonautenanzug" (parasitenpresse, Köln).
Der Wind stand auf in den Falten
der Nacht, im Gallenraum,
und suchte Allmählichkeit,
verneigte und breitete sich
aus im Skalp der Poetin.
*1970 in Munich, studied literature, works as an author, writing coach and translator. Several awards for her poetry, among others 2012 media award in the Poetry Prize Meran.
She published three volumes of poetry, most recently "hangab zur kehle", yedermann Verlag, Munich 2010. In January 2015 the fourth volume "Ohne Kosmonautenanzug" (parasite-press, Cologne) will follow.