MO 20.10.
19 UHR
---
---
SO 26.10.
15.30 UHR
Andrea Grill (A)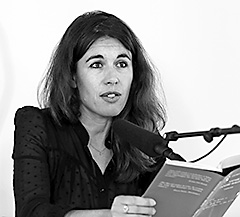 *1975 in Bad Ischl, Österreich; lebte mehrere Jahre in Cagliari (Sardinien), Tirana, Amsterdam und Bologna.
Schriftstellerin und Übersetzerin aus dem Albanischen; veröffentlicht auch in zahlreichen Zeitungen und Zeitschriften (z.B. NZZ, Der Standard, Die Presse, Literatur und Kritik, Manuskripte).
Für ihre Werke erhielt sie eine Reihe von Auszeichnungen, unter anderem den Förderpreis zum Bremer Literaturpreis 2011 für ihren Roman "Das Schöne und das Notwendige".
Zuletzt erschienen: "Happy Bastards". Gedichte. 2011. "Safari, innere Wildnis". Gedichte. 2014.
Übersetzung aus dem Albanischen: "De digitale paus". Gedichte. Von Albana Shala (aus dem Albanischen ins Niederländische). Uitgeverij P, Leuven. 2009. "Kinder der Natur". Gedichte von Luljeta Lleshanaku (aus dem Albanischen). Edition Korrespondenzen, Wien. 2010.
schüttle beim Umrühren
die Handgelenke meiner Mutter
aus beiden Ärmeln,
verwende den Vater wie Privatbesitz
(er hört den Staat ab)

*1975 in Bad Ischl, Austria; lived for several years in Cagliari (Sardinia), Tirana, Amsterdam and Bologna. Writer and translator from the Albanian language. Publications in numerous newspapers and magazines.
She received a number of awards, among others for her novel "The Beautiful and the necessary" in 2011. Recently published: "Happy Bastards". Poems. 2011; "Safari, innere Wildnis". Poems. 2014.