Ingrid Fichtner (D)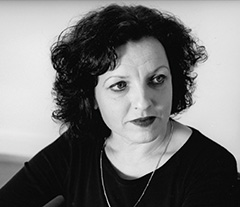 *1954 in Judenburg, Österreich, lebt seit 1985 in Zürich, arbeitet neben ihrer schriftstellerischen Tätigkeit als freie Lektorin und Übersetzerin.
Veröffentlichungen seit 1995, hauptsächlich Lyrik, für die sie mehrfach ausgezeichnet wurde. Einladungen zu internationalen Poesiefestivals.
Jüngste Publikationen: "Von weitem", 2014 und "Lichte Landschaft", 2012, beide im Wolfbach Verlag, Zürich.
peinigt den Boden die letzten
Schneeflecken werden rissig
Geäst trocknet von Baum zu
Baum schießen gelbe Pfeile
hervor und wecken die Samen
*1954 in Judenburg, Austria, lives since 1985 in Zurich. Besides her literary career working as a freelance editor and translator. Publications since 1995, mainly poetry, for which she has won several awards. Invitations to international poetry festivals.
Recent publications: "Von weitem", 2014 and "Lichte Landschaft", 2012, both at Wolfbach Verlag, Zurich.