Pelin Özer (TR)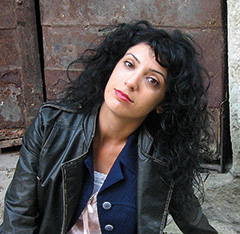 *1972, Studium der Kommunikationswissenschaften an der Istanbul Universität.
Bis 2003 Arbeit im Medienbereich, seither freiberufliche Schriftstellerin in Istanbul.
Veröffentlichungen: "Latife Tekin Kitabı", Interviewbuch mit Latife Tekin (2005), "Cam Kulübeler", Haikus (2007), "17 Haziran", Roman (2010), ausgezeichnet  mit dem Duygu-Asena-Romanpreis.
2010 gewann sie den Spezialpreis der Jury beim Haiku-Wettbewerb der Boğaziçi Buchmesse.
VII.
Ich kenne ihn nicht
Doch sein Geist war einst mein Geliebter
Wüsste ich nicht Licht einzufärben mit der Silbe, die er zurückließ
Gäbe mir die Erinnerung an sein Fortgehen nicht diesen Frieden.
VII.
Onu tanımıyorum
Ama ruhu sevgilimdi bir zamanlar
Bıraktığı heceden ışık boyayacağımı bilmesem
Gidişini anımsamak böyle huzur vermezdi bana
*1972, degree in journalism at the Istanbul University. She worked at several media companies and publishing houses. Since 2003 she is a freelance writer.
Publications: "Latife Tekin Kitabı", (Interview, Everest Publications) was published in 2005; "CamKulübeler" (Haikus, Roll), which is a collection of her selected haikus 2007 and "17 Haziran" (Novel, Alef), 2011, which won the Duygu-Asena Novel Prize in 2012.
 
In 2010 she is the winner of the Special Prize of the Boğaziçi Book Fair Haiku Competition. In 2012 she was awarded with the Duygu Asena Novel Prize.