Wanda Schmid (CH)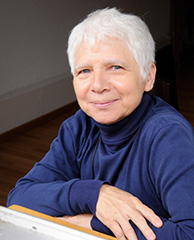 *1947, lebt in Zürich.
Sie schreibt Gedichte, Prosa und Theatertexte. Zusammenarbeit mit anderen Autorinnen, Vertonungen von Gedichten.
Das Dramolett "Das Meer verdampft" wurde als Fassadendrama 2004 am Stadttheater Luzern uraufgeführt. Weitere Theatertexte kamen auf verschiedenen Kleinbühnen zur Aufführung.
Für ihre Arbeiten erhielt sie verschiedene Auszeichnungen u.a. 2000 den Einzelwerkpreis der Schweizerischen Schillerstiftung für die Erzählung "Friedhofsgeflüster".

Letzte Buchveröffentlichungen: "Apfelblütenstecher", Gedichte und Fragmente 2008; "Löcher, Löcher", drei Monologe 2011, beide im eFeF-Verlag Wettingen.
Die Stille
zwischen uns
ist nackt
wir
an die Nacht gelehnt
wir
sind nicht satt
*1947, lives in Zurich. She writes poems, prose and drama texts. Collaboration with other authors, settings of poems. The playlet "Das Meer verdampft" premiered as a facade drama 2004 at the Stadttheater Luzern. Other theatre texts were performed on different small stages.
For her work she received several awards, among others 2000 the prize of the Swiss Schiller Foundation for the story "Friedhofsgeflüster". Recent publications: "Apfelblütenstecher", poems and fragments, 2008; "Löcher, Löcher", three monologues, 2011, both at eFeF publishing house Wettingen.