Carmen Wegge (D)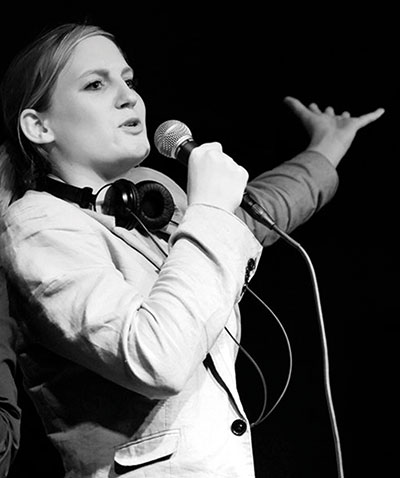 *1989, lebt in München.
Sie gehört seit 2009 zu den erfolgreichsten Slammer/innen des deutschsprachigen Raumes. Sie ist ein Teil des einzigartigen Poetry Teams "Le Poonie" und erreichte damit unter anderem zwei Mal das Teamfinale der deutschsprachigen Meisterschaften.
Sie steht aber nicht nur selbst auf der Bühne, sondern veranstaltet verschiedene Poetry Slams in München und setzt sich für Literaturförderung an Schulen ein. Ihre Poesie brachte sie unter anderem nach Togo, England, Luxemburg, Österreich,Schweiz und die Elfenbeinküste.
Schrieb u.a. Kolumnen für die Süddeutsche Zeitung Jugendseite ⇒ posts
Carmen Wegge live beim Bunker Slam - Youtube


Sie wiegt sich im Takt der Musik,
sie bewegt ihre Beine zum Off-Beat,
ein Kleid das sich an ihre Hüften schmiegt.
Mit Händen drauf, von einem der gerade auf sie
drauf fiel.
*1989, lives in Munich. wrote columns for the youth side of the Süddeutsche Zeitung.
Together with Bente Varlemann she performs as "Le Poonie" on the poetry slam stages throughout the german-speaking countries.
"Rhythmically sophisticated, gestural and visual on the point, they zap through their text and voice collage, interweaving private sensibilities and media brainwashing both compact and flirty." (Kieler Nachrichten 2012).