Yolanda Castaño (Galizien)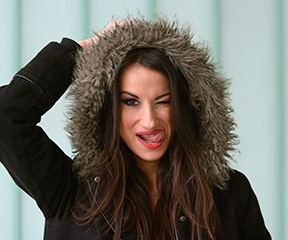 *1977 in Santiago de Compostela, Spanien. Studierte Spanische Literaturwissenschaft.
Sie ist Dichterin, Herausgeberin und Kulturmanagerin. Veröffentlichung von sechs Gedichtbänden auf Galizisch und Spanisch.
Sie verbindet Poesie mit Musik, Performance, Tanz, Architektur und Kunst, sogar mit Kochkunst.
Sie erhielt zahlreiche Preise sowie Stipendien für Aufenthalte in Rhodos, München (2011) und Peking (2014).
Polas mañás ensina no conservatorio, polas noites, fai ruído.
Os sábados adoras os tacóns, os luns a sensación dunha pedra no zapato.
De ida mastigan ríos, de volta aspiran tiras de mofo.

Morgens unterrichtet sie am Konservatorium, abends, macht sie Krach.
Samstags betest du die Absätze an, Montags meinst du einen Stein im Schuh zu haben.
Auf dem Hinweg kauen die Flüsse, auf dem Rückweg atmen Unmengen von Moder.
*1977 in Santiago de Compostela, Spain. Studied Spanish Language and Literature. Castaño works as a poet, editor and cultural manager. She has published 6 poetry books in Galician and Spanish.
Publication of six volumes of poetry in Galician and Spanish. She combines poetry with music, performance, dance, architecture and art, even with cooking and has received numerous awards and fellowships in Rhodes, Munich (2011) and Beijing (2014).