Friederike Mayröcker (A)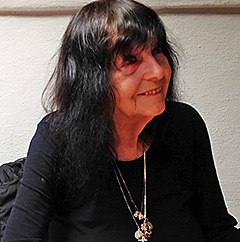 *1924 in Wien, arbeitete zwischen 1946 bis 1969 als Englischlehrerin an verschiedenen Wiener Hauptschulen. Ab 1939 erste literarischen Arbeiten, sieben Jahre später erste Veröffentlichungen von Gedichten. 1954 lernte sie Ernst Jandl kennen, mit dem sie zunächst eine enge Freundschaft verbindet, später wird sie seine Lebensgefährtin.
Ab 1956 erste Buchveröffentlichung: Lyrik und Prosa, Erzählungen und Hörspiele, Kinderbücher und Bühnentexte.
Zuletzt erschienen "études" 2013, "Von den Umarmungen" 2012, "Ich sitze nur GRAUSAM da" 2012, alle bei Suhrkamp.
Auszeichnungen (Auswahl): Buchpreis der Wiener Wirtschaft 2014, Bremer Literaturpreis 2011, Peter-Huchel-Preis 2010, Hermann-Lenz-Preis 2009, Ehrenring der Stadt Wien 2004, Premio Internazionale 2003, Georg-Büchner-Preis 2001.
1 Gedicht das ist so 1 Atemzug : 1 Vögelchen auf der
Spitze des Baumes : kein Gewicht auf der Brust des
Dichters : 1 Gedicht das ist der Tann der mir wächst aus den
Lungen Flügeln : der mir sprieszt aus den Abschiedstränen : 1
Gedicht das sind nicht Trompeten Posaunen : 1 Gedicht das ist
1 Schluchzen und Küssen : 1 Gedicht das ist die Umarmung des
Freundes in 1 Oktobernacht
1.10.09
*1924 in Vienna, from 1946 to 1969 English teacher at various secondary schools in Vienna.
Beginning in 1939, first literary works, seven years later first publications of poems. Since 1954 close friendship with Ernst Jandl, later she became his liftetime companion.
Since 1956 book publications: poetry and prose, short stories and radio plays, children's books and stage texts. Recently published: "études" (2013), "Von den Umarmungen" (2012), "Ich sitze nur GRAUSAM da" (2012), all at Suhrkamp publishing house. Awards (selection): Book Prize of the Vienna Business 2014, Bremen Literature Prize 2011, Peter Huchel Prize in 2010, Hermann Lenz Prize 2009, Honorary Ring of Vienna 2004, Premio Internazionale 2003, Georg Büchner Prize 2001.