Theresa Hahl (D)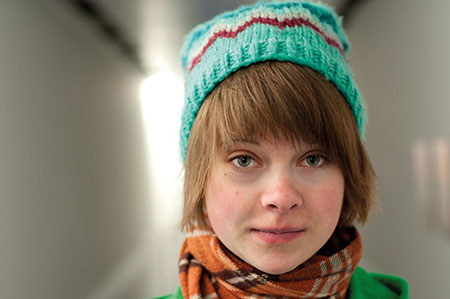 *1989 in Heidelberg, seit 2009 aktiver Teil der deutschsprachigen Spoken-Word Szene, gibt Schreibworkshops und setzt sich innovativ mit der Inszenierung des gesprochenen Wortes auseinander.
Verschiedene Projekte mit dem Goethe Institut in Afrika  und Indien. Neben Eigenpublikationen und Hypertextprojekten wurden ihre Texte unter anderem bei Reclam und Lektora veröffentlicht.
Als schon der Morgenmahlstrom längst erwacht
in trüber Tracht fahl durch die Fenster klafft,
haben gähnende Gespenster dieser Nacht
einen letzten tranceertränkten Tänzer vorgebracht.
* 1989 in Heidelberg, has been an important part of the German spoken-word scene since 2009. She organizes writing workshops and develops innovative performances of spoken word on stage.
Various projects with the Goethe Institute in Africa and India. Besides her self publishing and hypertext projects her texts were published by Reclam and Lektora.