MO 20.10.
19 UHR
---
---
FR 24.10.
15 UHR
Sonja Harter (A)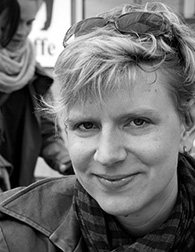 *1983 in Graz geboren, lebt heute in Wien.
Seit 2001 veröffentlicht sie in Literaturzeitschriften (u.a. Manuskripte, Lichtungen, kolik), Anthologien (u.a. Jahrbuch der Lyrik, S. Fischer; Lyrik von Jetzt Zwei, Berlin Verlag, Stimmenfang, Residenz) und im ORF Radio.
2005 erschien der Gedichtband "barfuß richtung festland", 2008 folgte "einstichspuren, himmel" (beide Leykam).
Preise und Stipendien: Literaturförderungspreis der Stadt Graz 2003, Literaturstipendium der Stadt Graz 2005, Frauen.Kunst.Preis 2006, Wiener Autorenstipendium 2010, Staatsstipendium 2011.
Arbeitet als Kulturredakteurin bei der APA – Austria Presse Agentur.
auch ohne den geringsten plan
schichten sich die versatzstücke
eines geglückten tages akkurat
übereinander.

*1983 in Graz, lives in Vienna. Since 2001 she has published in literary magazines, anthologies and the ORF Radio. In 2005 the collection of poems "barfuß richtung festland" appeared , followed by "einstichspuren, himmel" (both Leykam) in 2008.
Awards and scholarships from Graz and Vienna; State Scholarship 2011. Works as a cultural editor for the APA - Austria Press Agency.