Andrea Heuser (D)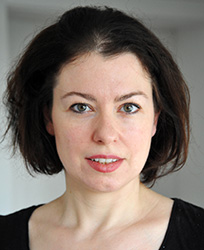 *1972 in Köln, lebt heute mit ihrer Familie in München. Sie studierte Deutsche Literatur, Vgl. Religions- und Politik-wissenschaften in Köln und Bonn. Sie promovierte mit der Studie "Vom Anderen zum Gegenüber" zur deutsch-jüdischen Literatur, erschienen 2011 im Böhlau-Verlag.
Literarische Arbeiten in den Bereichen Lyrik, Prosa und Musiktheater. 2008 erschien ihr Lyrik-Debüt "vor dem verschwinden" bei onomato (Düsseldorf), für das sie mehrfach ausgezeichnet wurde.

2012 wurde "All diese Tage", die sechste Oper, zu der Andrea Heuser das Libretto schrieb, an der Oper Bremen uraufgeführt (Musik: Moritz Eggert).
2014 erscheint "Augustas Garten", ihr erster Roman bei DuMont (Köln).
STEIN sein
umspült werden, gänzlich
unbewegt
jene Bewegung begreifen
die fortwährend kontaktet, sich reibt, dabei
ins Innere nicht dringt
Ihr Verströmen begreifen, ihren Verschmutzungsgrad
dies fremde Gedächtnis
*1972 in Cologne, lives with her family in Munich. She studied German literature, comparative Theology and Political Sciences in Cologne and Bonn. PhD about German-Jewish literature.
Literary works in the fields of poetry, prose and music theatre. In 2008 she published her poetry debut "vor dem verschwinden" at onomato (Dusseldorf), for which she won several awards. In 2012 "All diese Tage", was first performed at the Bremen Opera (music: Moritz Eggert), the sixth opera Andrea Heuser wrote the libretto for. In 2014 her first novel appears, "Augustas Garten", at DuMont (Cologne).