Sarah Ines (D)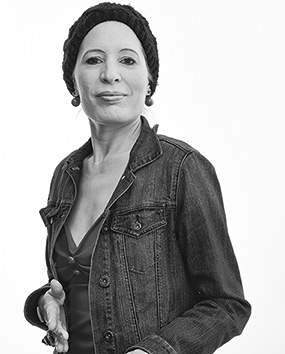 *1970, sie studierte Literaturwissenschaften und machte Fortbildungen zur Kulturmanagerin und freien Lektorin der Akademie des Deutschen Buchhandels. Die Tochter der Schriftstellerin Karin Struck verwaltet als 1. Vorsitzende der Karin-Struck-Stiftung e.V. auch deren Nachlass.
Sie lebt als freie Autorin, Kulturvermittlerin und Social Media & Public Relations Lady in München. Sie arbeitet schriftstellerisch in den Genres Diary, Lyrik, Prosa, Erotik und Szenisches.
Ihr Lyrikdebüt "liebe geht durch die haut" erschien 2007 im Storia Verlag. Künstlerisch arbeitet Sarah Ines in und an Cross-Art-Projekten mit bildender Kunst und Musik. Seit 2013 arbeitet sie an dem Projekt "Taunusremix" von und über Karin Struck, sowie an dem Remixprojekt "ramontik" mit eigenen poetischen Texten und Stimmperformance.
www.sarah-ines.de | www.karin-struck.de | www.textorin.de
roh ramontik
demontiert die
natürliche ordnung
der emotionen
verstört
hui pfui
spießerei
*1970, studied literature, cultural management and is a freelance letor. As chairman of the Karin Sruck Foundation, the daughter of writer Karin Struck administers her estate. She lives as a cultural manager and media & public relations specialist in Munich. As a writer sheworks in the fields of diary, poetry, prose and eerotic literature.
Her poetry debut "liebe geht durch die haut" was published in 2007 at Storia Publishers. In her cross-art projects she includes visual art and music. Since 2013 she works on "Taunusremix" by and on Karin Struck, and on the remix project "ramontik".