Kirsti Simonsuuri (FIN)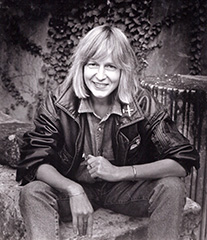 *1945 in Helsinki, ist Wissenschaftlerin, Schriftstellerin und Dichterin. Sie studierte Alte Sprachen, Philologie und Philosophie und promovierte an der Cambridge University.
Sie veröffentlichte Studien über Homer und die frühe griechische Epik und Mythologie, das griechische Drama und über europäische und finnische Literatur.
Von Kirsti sind mehrere Gedichtsammlungen und Essays erschienen. Ihre Werke wurden in viele Sprachen übersetzt.
Ihre Anthologie "Enchanting Beasts" von Gedichten finnischer Frauen gewann 1991 den Columbia University Translation Award. Sie übersetzte viele Werke von Virginia Woolf, Sylvia Plath sowie Werke Aischylos, Sophokles, Euripides und Shakespeare.
Taoin salakielten avaimia:
              raikas vesi, latina
              makea mansikka, suomi.
Schmiedete Schlüssel zu Geheimsprachen:
                 frisches Wasser, Lateinisch
                 süße Erdbeere, Finnisch.
Scholar, writer and poet Kirsti Simunsoori studied classics, philology and philosophy, and holds a doctorate from Cambridge University.
She has published studies of Homer and the early Greek epic and mythology, Greek drama, European and Finnish literature; several collections of poems, novels, radio plays and essays in Finnish. Translations of her work have appeared in many languages.
Her anthology of modern Finnish women poets "Enchanting Beasts" won a Columbia University Translation Award in 1991. Her translations into Finnish include many works of Virginia Woolf, Sylvia Plath, as well as works by Aeschylus, Sophocles, Euripides, and William Shakespeare.