Zehra Çırak (TR)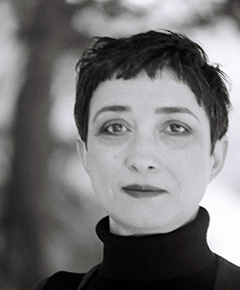 *1960 in Istanbul, 1963 Übersiedlung nach Deutschland, lebt und arbeitet seit 1982 in Berlin.
Ein Schwerpunkt der Gedichte beruht in der gemeinsamen Zusammenarbeit und den Auftritten im In -und Ausland mit Texten zu den Skulpturen vom Objektkünstler Jürgen Walter.
Zahlreiche Stipendien und Preise, u.a. 2001 den Adelbert von Chamisso-Preis.
Zuletzt veröffentlicht: "Der Geruch von Glück", Erzählungen 2011, "Die Kunst der Wissenschaft", Texte und Objekte als e-book in Deutsch und Englisch, beide im Verlag Hans Schiler, Berlin.
Sekundärsäcke
diese mit Wohl und mit Übel
was nötig ist
zuerst ein Feuerchen der Schrift
aufgeschrieben
erzählt wird vieles

* 1960 in Istanbul,moved to Germany in 1963 , lives and works in Berlin since 1982.
One focus of her poems is based on the cooperation with the object artist Jürgen Walter. Numerous scholarships and awards, among others 2001 the Adelbert von Chamisso Prize. Recently published: "The smell of good fortune", Stories in 2011; "The Art of Science", Texts and Objects as an e-book in German and English, both published by Hans Schiler, Berlin.