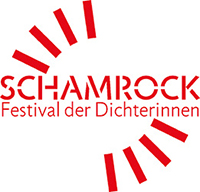 Internationale Poetry-Biennale - Filmfestival - Salon - Netzwerk
Samstag, 5. November, 15 Uhr
---
Lulieta Lleshanaku
(Live-Stream – Albanien / Albania)
Luljeta Lleshanaku ist eine albanische Dichterin. Sie arbeitete als Journalistin, Fernsehautorin, Hochschullehrerin und eigentlich als Geschichtsforscherin. Auszeichnung als European Poet of Freedom 2022 in Danzig, Polen.
Autorin von neun Gedichtbänden in ihrer Sprache, die vielfach übersetzt und in anderen Sprachen veröffentlicht wurden. Letztes Buch in englischer Sprache: Negative Space, Gewinner des englischen PEN-Preises, Finalist für PEN America 2019.
Ihre zwei Gedichtbände in deutscher Sprache: Kinder der Natur, Edition Korrespondenzen 2010, erschienen mit Unterstützung von TRADUKI und Die Stadt der Äpfel, Hanser 2021, gehören zu den empfohlenen Büchern der Deutschen Akademie für Sprache und Dichtung.
Luljeta Lleshanaku is an Albanian poet. She worked as a journalist, TV author, university teacher, and actually as a history researcher. European Poet of Freedom 2022 in Gdansk, Poland.
Author of nine poetry collections in her language, widely translated and published in other languages. Last book in English: Negative Space, winner of English PEN award, finalist for PEN America 2019.
Two poetry collections in German language: Kinder der Natur, Edition Korrespondenzen 2010, published with the support of TRADUKI and Die Stadt der Äpfel, Hanser 2021, are among the recommended books by Deutsche Akademie für Sprache und Dichtung.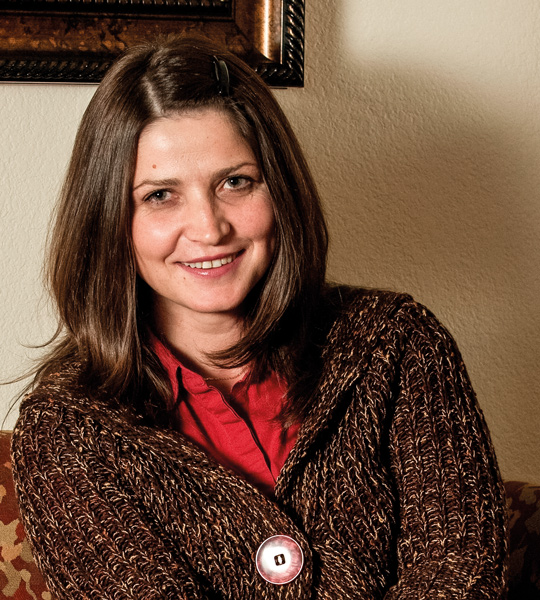 MISTERI I LUTJEVE
Në familjen time
lutjet bëheshin fshehtas
me zë të ulët, me një hundë të skuqur nën jorgan,
gati mërmëritje,
me një psherëtimë në fillim dhe fund
të hollë, e të pastër si një garzë.
Përreth shtëpisë,
kishte vetëm një palë shkallë për t'u ngjitur
ato të drunjtat, të mbështetura gjithë vitin pas murit,
për riparimin e tjegullave në gusht para shirave.
Në vend të engjëjve,
hipnin e zbritnin burra
që vuanin nga shiatiku.
Ata luteshin duke u shikuar sy më sy me Të,
si në një marrëveshje kryezotësh
duke kërkuar nje shtyrje afati.
"Zot, me jep forcë!" e asgjë më shumë,
se ishin pasardhësit e Esaut,
të bekuar, me të vetmen gjë që mbeti prej Jakobit,
– shpatën.
Në shtëpinë time
lutja ishte një dobësi,
që nuk përflitej kurrë,
si të bërit dashuri.
Dhe njësoj si të bërit dashuri
pasohej nga nata e frikshme e trupit.
DAS GEHEIMNIS DER GEBETE
In meiner Familie
wurde versteckt gebetet,
mit leiser Stimme, die rote Nase unter der Decke,
fast Geflüster,
mit einem Seufzer am Anfang und am Ende,
dünn und sauber wie eine Mullbinde.
Rund ums Haus
gab es nur eine Leiter, um aufs Dach zu steigen,
aus Holz, das ganze Jahr gegen die Wand gelehnt,
zur Reparatur der Ziegel im August, vor den Regenfällen.
Anstelle der Engel
stiegen Männer auf und ab,
denen der Ischias weh tat.
Sie beteten, Aug in Aug mit Ihm,
wie bei einem Kreuzwegsabkommen,
in dem sie um Aufschub des Stichtages ansuchten.
sie waren nämlich Nachkommen von Esau,
gesegnet mit dem einzigen, das von Jakob übrig war,
– dem Schwert.
Bei mir daheim
galt das Gebet als eine Schwäche,
die man nicht erwähnte,
ebenso wenig
wie das Miteinanderschlafen
Und genauso
wie das Miteinanderschlafen
profitierte es von des Körpers furchtsamer Nacht.
THE MYSTERY OF PRAYERS
In my family
prayers were said secretly,
softly, murmured through sore noses
beneath blankets,
a sigh before and a sigh after
thin and sterile as a bandage.
Outside the house
there was only a ladder to climb
a wooden one, leaning against a wall all year long,
ready to use to repair the tiles, in August before the rains.
No angels climbed up
and no angels climbed down—
only men suffering from sciatica.
They prayed to catch a glimpse of Him
hoping to renegotiate their contracts
or to postpone their deadlines.
"Lord, give me strength," they said
for they were descendants of Esau
and had to make do with the only blessing
left over from Jacob,
the blessing of the sword.
In my house praying was considered a weakness
like making love.
And like making love
it was followed by the long
cold night of the body.
Translated by Henry Israeli
LAJME TE VONUARA
Në fshatin midis maleve, lajmi vjen një muaj me vonesë.
Gjate rrugës pafajësohet: ai që vdiq shkoi doemos në parajsë,
e një grusht shteti "është vullneti i zotit".
Përroi mbyt vetminë me vetmi. Imagjinata është rrëshirë
që të mbron nga trupi.  Përndryshe, pylli i rëndë i gështenjave dhe burrat e dehur,
gdhihen me shpatulla të ftohta ngjeshur pas murit.
Vajzat preferojnë martesat larg
për të lënë prapa, të paprekur,
bustin e pesëmbëdhjetëvjeçares.
Dhe përtej pesë fshatrave vijnë nuset,
nuset që do të lindin femijë- profetë
midis sanës dhe kashtës në plevicë. Ah, desha të them
vetëm njëri prej tyre do të jetë profet;
të tjerët do të praktikohen për të gjuajtur me gurë
(kjo është gjithashtu pjesë e profecisë).
Në një mesditë vjeshte si kjo,
ata do të dalin nga shkolla si një tufë e trazuar sorrash prej erës se gjakut,
per t'iu vënë pas makines- rrangallë të postës
deri në kthesë, kur ajo të zhbëhet në pluhur.
E pastaj do të shkojnë të vjedhin dardhët e egra në "oborrin e kurvës"
Askush nuk i ndalon. "Grua me dy burra… hak e ka!"
Midis dardhëve të egra në çantë- një roman,
me porosinë për t'u mbajtur mirë. Një "Ana Kareninë"
që do të lexohet me padurim duke filluar nga faqja e fundit,
e pastër dhe e fisnikëruar si një lajm i vonuar.
VERZÖGERTE NACHRICHTEN
Im Dorf in den Bergen kommen die Nachrichten einen Monat später an.
Der Weg macht sie unschädlich: der Verstorbene landet direkt im Paradies,
und ein Staatsstreich wird zum "Willen Gottes".
Der Bach ertränkt Einsamkeit in Einsamkeit. Die Phantasie ist das Harz
das dich vor deinem Körper schützt. Der schwere Kastanienwald und die betrunkenen Männer lehnen sonst bei Sonnenaufgang
neben kalten Schaufeln an der Wand.
Die Mädchen heiraten gern in die Ferne
die Büste der Fünfzehnjährigen bleibt
unberührt zurück.
Aus fünf Dörfern kommen die Bräute,
Bräute, die Prophetenkinder gebären werden
zwischen Heu und Stroh in der Scheune. Ah, ich wollte sagen
nur einer unter ihnen wird Prophet werden;
die anderen werden das Steinewerfen üben
(das ist auch Teil der Prophezeiung).
An einem Herbstmittag wie diesem,
werden sie aus der Schule kommen wie ein verwirrter Krähenschwarm
dem Blutgeruch hinterher,
verfolgen das kaputte Postauto
bis zur Kurve, wo es sich in Staub auflöst.
Und dann gehen sie Birnenstehlen aus dem "Garten der Hure",
niemand hält sie auf. "Eine Frau mit zwei Männern ... Abfindung genug!"
Zwischen wilden Birnen einen Roman in der Tasche,
bitte gut behandeln. Eine Anna Karenina
die voll Ungeduld gelesen werden wird, von der letzten Seite an,
sauber und treu ergeben wie verzögerte Nachrichten.
OLD NEWS
In the village nestled between two mountains
the news always arrives one month late,
cleansed in transit, glorified, mentioning only the dead who made
it to paradise,
and a coup d'état referred to as 'God's will'.
Spring kills solitude with solitude, imagination
the sap that shields you from your body. Chestnut trees
awaken, drunken men
lean their cold shoulders against a wall.
The girls here always marry outsiders and move away
leaving untouched statues of their fifteen-year-old
selves behind.
But the boys bring in wives
from distant villages,
wives who go into labor on heaps of grass and straw in a barn
and bear prophets.
Forgive me, I'd meant to say 'only one will be a prophet'.
The others will spend their lives throwing stones
(that is part of the prophecy, too).
At noon on an autumn day like today
they will bolt out of school like a murder of crows stirred by the
smell of blood
and chase the postman's skeleton of a car
as it disappears around a corner, leaving only dust.
Then they will steal wild pears from the 'bitch's yard'
and nobody will stop them. After all, she deserves it. She's sleeping
with two men.
Between the pears in one boy's schoolbag
lies a copy of Anna Karenina.
It will be skimmed over, impatiently, starting on the last page
cleansed and glorified, like old news.
Translated by Henry Israeli