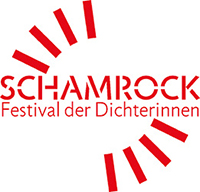 International Poetry-Biennial - Filmfestival - Salon - Network
___Festival 2018________Europe_Inside_/_Outside________Vienna 24_10 | Munich 26-28_10
---
Borderland, that is the meaning of the country name Ukraine. A poet symbolizes the quest for freedom, democracy and equality: Taras Schewtschenko (1814–1861). Important Ukrainian poet Lesja Ukrajinka (1871–1913) sang about lacking freedom early on, her portrait embellishes the 200-Hrywnja bill, she translated Heinrich Heine and her popular poetry had great influence on the development of the national language.
To speak openly the eastern Slavonic Ukrainian language, let alone to publish, used to be a significant political act. Only since the Ukraine gained its independence from the firm grip of the Soviet Union in 1991, local language literature can florish more or less unrestricted, a fate shared with many eastern countries under former Soviet occupation.
Yet this is a land that already Ukrainians, Russians, Polish and Rumanian people, Germans and Jews called home. A land, that even today, after Maidan and the Krim crisis, is exposed to many different political, economical and cultural influences. A land, in which also German, Polish, Rumanian, Russian, Armenian and Jiddish writers could work. A land, that produces many major German speaking writers like Joseph Conrad, Paul Celan and Rose Ausländer. And a land, where feminist Anna Hutsol founded the famous protest group Femen.
The readings and panel will provide us with some insights into recent developments and actual situation in this part of European borderland.
Kateryna Kalytko, *1982 in Winnyzja, Ukraine, writer, translator, member of the ukrainian PEN Centre. She published seven poetry books, latest: Folterbank, Weinberg. Haus, 2014 and Bunar, 2018. Her book Land der Verlorenen of nine scary stories appeared in 2017. Her writings have been translated into various languages. Latest awards: Joseph-Conrad-Literaturpreis 2017, BBC Ukraine – Book of the Year 2017 (for Land der Verlorenen). ⇒ poetry
Oksana Sabuschko, *1960 in Luzk, lives in Kiew. She studied philosophy and taught Ukrainian literature in Harvard and Pittsburgh. Her work has benn translated into various languages and received numerous international awards. In German language, she publisged the novels Feldstudien über ukrainischen Sex, 2006, Museum der vergessenen Geheimnisse, 2010, and the selection of essays Planet Wermut, 2012 and Der lange Abschied von der Angst, 2018. On the occasion of Schamrock-Festivals she will present her new poetry for the first time. ⇒ poetry

Iryna Tsilyk, filmmaker, writer and the author of prose and children's books and two collections of poems, Red Marks on Black, 2015 and The Depth of Field, 2016. Her texts have been translated into more than ten languages, and presented at international festivals and events, such as the literary residence of LCB Berlin 2018, Prague Book Fair 2018, Poesiefestival Berlin 2017, Leipzig Book Fair 2017, Frankfurt Book Fair 2016. ⇒ poetry
Focus Ukraine curated by Sarah Ines Struck, presentation Peter Hilkes of the Arbeitsforum Ukraine e.V. , panel participants Prof. Maria Pryshlak, Ukrainian Free University Munich and Halyna Kubiv, Initiative eUkraine.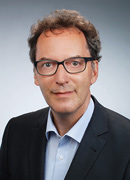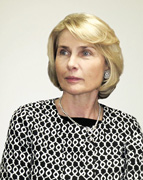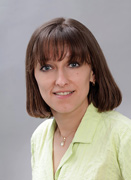 Peter Hilkes, director of the forumNET.Ukraine, lecturer in ukrainian studies at the Institute of Slavonic Philology, faculty of linguistics and literary studies at the LMU Ludwig-Maximilians-University Munich, projekt coordinator House of Resources Munich at MORGEN e.V. Network Migrant Organizations ⇒ www.forumnetukraine.org
Prof. Dr. Maria Pryshlak, Principal Ukrainian Free University Munich UFU ⇒ www.ufu-muenchen.de/de
Halyna Kubiv, Initiative eUkraine e. V. München ⇒ www.eukraine.de
Sarah Ines Struck, author and poetry performer, works in cultural management and communication. Magistra Artium in Recent German Literature, Oriental philology and philosophy at the Christian-Albrechts-University, Kiel. Works on cross-art projects of literature, performing and fine arts and music. Latest publication: liebe geht durch die haut, 2007. 2017 Texte & Töne-Performance Jokerspiel with Ulrike Budde and Masako Ohta, piano. Co-organizer Schamrock-Festivals 2012 and 2014. Board of Karin-Struck-Stiftung e. V. association, managing the literary estate fo her mother Karin Struck at the Literaturarchiv Monacensia, Munich. Organizes the reading series Duelle mit Spiegelbildern
⇒ www.sarah-ines.de │ www.karin-struck.org
Translations: Dr. phil. Alexander Kratochvil literary scholar and tanslator, lecturer at the Institute for Slavonic and Hungarian studiesat the Humboldt-University Berlin
Claudia Dathe, translator for Ukrainian and Russian languages, coordinator of the EU-project "TransStar Europa"
⇒ www.slavistik.uni-tuebingen.de/institut/m/dathe.html
Kindly supported by Departement of International Relations od te Bavarian State Chancellery, in cooperation with the Ukrainian Free University Munich, Arbeitsforum Ukraine e.V. and the Initiative eUkraine.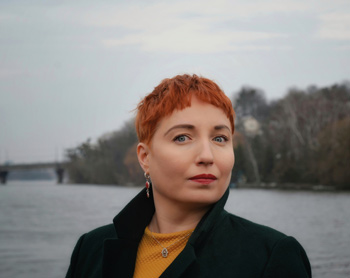 Kateryna Kalytko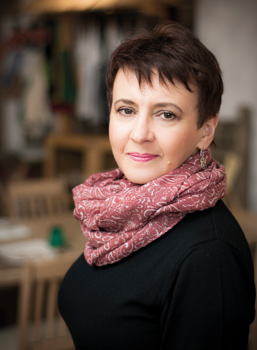 Oksana Sabuschko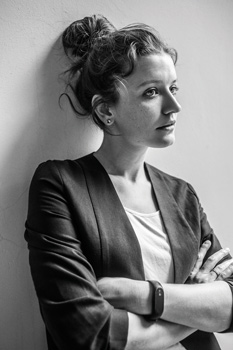 Iryna Tsilyk