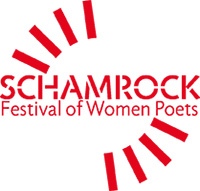 International Poetry-Biennial - Filmfestival - Salon - Network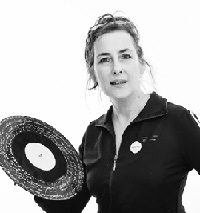 Foto Alan Grund
Augusta Laar, founder and artistic director salon and festival
Artist, poet, musician, lives in Munich and Vienna. Studied music in Munich (LMU, Richard-Strauss-Konservatorium). Lectureships on poetry, perception and sound.
International exhibitions and projects a.o. on poetic communication. Recently: The Reconstruction of Poetry, Latvian Center for Contemporary Art, Riga 2016.
Director of the reading series for female poets Schamrock-Salon der Dichterinnen in Munich since 2009 and the first womens poetry festival worlwide Schamrock-Festival der Dichterinnen in Munich and Vienna since 2012.
Organizer of the Schamrock-Filmfestival female presence 2014 together with Kalle Aldis Laar. Ambassador of Vienna Poetry Academy 2016. Member of the World Poetry Movement. Electro-acoustic Poetry-Duo "Kunst oder Unfall (Art or Accident)" with Kalle Aldis Laar. Performances in Istanbul, Medellin, Riga, Trivandrum, Venice, Toronto, N.Y.
Awards for eletroacoustic poetry and fotography. Studio sponsorship of the city of Munich. Her poems have been translated into English, Spanish, Turkish, Slowak and Chinese.
Selected Publications: summt dem fall, poetry book, Vienna-St. Wolfgang 2016, 99 love poems, poetry book, Munich 2012, if you write a poem for me, art catalogue, European Patent Department 2010, weniger stimmen, poetry book, Vienna 2004, Cds and artist books (fanzines) with Kunst oder Unfall, Numerous publications in literary papers and anthologies, radio shows.
www.poeticarts.de – www.kunstoderunfall.de – www.schamrock.org
Festival appearance with ⇒ Kunst oder Unfall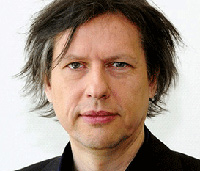 Kalle Aldis Laar, festival organisation
Co-organizer /-curator Festival / Filmfestival 'female presence'. Schamrock Graphics and Website.
Sound artist, composer, dj, author of radioplays. Founder of the Temporary Soundmuseum, an archive of vinyl documents on contemporary history.
Exhibitions, performances, project development for overtures.de, e.g. art Biennials of Venice and Havana, Ars Electronica Vienna, Transmediale Berlin.
Lectures on Perception, Sound and Art (Technical University Munich, Nanjang University Singapore).
Publications: Seelephonisches Oratorium, radio play, Bayrischer Rundfunk, 2011, Call me! Proceedings of the Digital Arts and Culture Conference, Univ. of California, Irvine 2009; as producer: Ernst Molden, Ho Rugg, Monkeymusic Vienna 2014 (German Music Critics Award 2014).
Lives in Krailling near Munich and Vienna.
www.soundmuseum.com – www.kunstoderunfall.de
Festival appearance with ⇒ Kunst oder Unfall

Schamrock-Festival support and staff
Nora Gomringer, consultant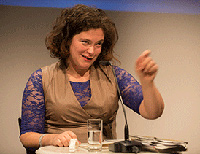 Poet, recitator. Besides many other rewards she won the most important prize for contemporary German-speaking literature, the Inge- borg-Bachmann-Preis in 2015.
She lives in Bamberg, since 2010 she is the director of the International Artists House Villa Concordia.
Beware! Nora-Eugenie Gomringer might amuse you, irritate you, could even make you cry for the right reasons! Has happened before.
Fritz Ostermayer, consultant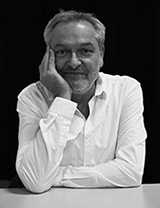 artistic director of the Vienna Poetry School. Writer, musician, performer, radio. Long standing journalist for music and culture(der standard, profil, falter; orf: musicbox, kunstradio, diagonal, fm4-im sumpf).
As writer poaching the hunting grounds pataphysik, music theory, satire, kitsch related text production etc.
As musician cooperation with a.o. der scheitel, neigungsgruppe sex, gewalt und gute laune, john giorno, otomo yoshihide, sachiko m ...
As media artist cooperation with bill fontana, clegg & goodman, grissemann und stermann ...
As curator working for steirischer herbst, festival der regionen. guest lecturere at the fh-joanneum in graz and the musicla science institute, university of Vienna.
sfd.at
Sarah Ines Struck, facebook, curator "Focus Indonesia", Festival 2016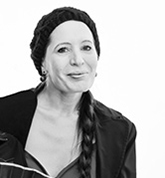 Writer and poet, culture manager and public relations specialist for culture and technology. Lives in Munich.
MA in German Literature, Philosophy, and Oriental Philology and Islamic Studies from University of Kiel. She publishes poetry and prose and realises cross art projects with visual arts and music. Her poetry debut liebe geht durch die haut was published in 2007.
As a public relations specialist and copywriter she creates and communicates ideas and texts for social media and the internet.
She is board member of the literature foundation Karin-Struck-Stiftung e.V. 2012 and 2014 she was joint organiser of the Schamrock Festival of Women Poets.
www.storia-verlag.de
–
www.textorin.de
–
www.sarah-ines.de
–
www.karin-struck.de
Martin Richartz, Festival photographer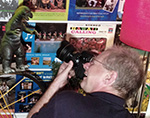 Professor for information technology, borderliner, interested in the frictions between new technologies and changes in audio visual media induced by them. Festival photographer since 2014.
Werner Reichelt, Festival Film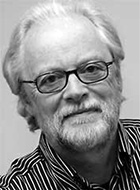 Photographer and video artist, lives and works in Fellbach near Stuttgart. 1985 - 2011 at Daimler AG, Stuttgart, from 1994 director security and anthropotechnics as well as research director in human machine-interaction (HMI) and ergonomics.
Gottfried Düren, sound recording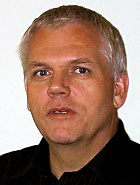 Originally studied garden architecture; 1973-1978 projects with Karlheinz Stockhausen, Mauricio Kagel, Iannis Xenakis, John Cage and Josef Anton Riedl, founding member of LOFT, Munich.
Koncerts, exhibitions, performances, film, Munich Piano Summer 1979 and 1981. 1991 'Hear India' multi-channel sound installation with Peter Pannke Haus der Kulturen der Welt in Berlin; until 2013 owner of 'sono Studiotechnik GmbH', 2009-2013 exhibition project kunst@sono. Founded in 2013 the gallery arToxin zusammen together with curator Angelika Donhärl.