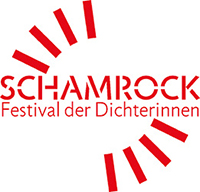 International Poetry-Biennial - Filmfestival - Salon - Network
___Festival 2018________Europe_Inside_/_Outside________Vienna 24_10 | Munich 26-28_10
---
In May 1918, for the first time Georgia declared its independence and sought to establish closer contacts to Europe. Three years later, the Soviet Army ended the dream of an independent republic. Georgia adopted Christian religion in the 5th century, and the Caucasian language has its own alphabet, declared "intangible heritage" by the UNESCO in 2016. Made by Characters is the motto of Georgia as this year's Frankfurt Book Fair's guest country, a big step back towards Europa.
In Georgia, poetry is way more important than in Germany. For example, the poets of the 1930s avant-garde artists movement "Blue Horns" are still popular among the younger generations. Most of them have been shot during the Stalinist era.
The country is torn between a conservative and Russia-friendly orthodox church, a regime tending to be repressive and under pressure by the fact that part of its territory is occupied by Russia, and a pro-Western youth. Its capital Tiflis, nicknamed Berlin of the East, has a hip techno club scene, but at the same time the Museum of Stalin has been preserved unchanged in his birth town Gori since 1957.
The poets of the post-soviet era of the 1980s and 90s reflected the changes of the times by breaking with ideological paternalism as well as with the rich formal traditions of Georgian poetry, thus introducing new realms of form and content.
At Schamrock, we are happy to present two of the most important current literary voices.
Bela Chekurishvili, Bela Chekurishvili, *1974 in Gurjaani, Georgia, studied georgian language and literature at the University of Tbilisi. She works as a cultural journalist and is about to finish her Ph.D. in comparative studies at the University of Tbilisi, currently studying at the University of Bonn, Germany.
Latest publications: Detektor der Nacktheit, Intelekti Tbilisi 2017, Wir, die Apfelbäume, Wunderhorn 2016, Barfuß, 2018. ⇒ poetry
Eka Kevanishvili, Eka Kevanishvili, *1979 Tbilisi, Georgia, journalist and poet. Since 2008, she works at the Tbilisi office of Radio Free Europe/Radio Liberty. Eka worked as an investigative journalist in different Georgian newspapers. She was the author and anchor of the radio program Green Wave.
Recent publications: Don't stand here, 2010; To sell a house, 2013 and Evacuation Plan, 2016. Recipient of the "Saba" prize in poetry, nomination of The best book of the year. Her poems are translated into English, Lithuanian, Russian, Ukrainian, Czech, Polish and German.
Eka Kevanishvili is a feminist poet writing mostly on social, political, gender issues, minorities, women power, conflicts and wars etc. ⇒ poetry
In cooperation with the Georgian National Book Center.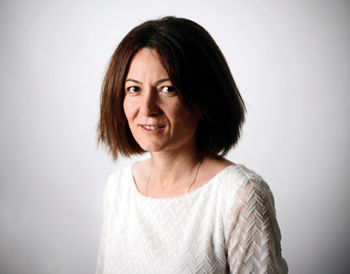 Bela Chekurishvili. Foto Nata Sopromadze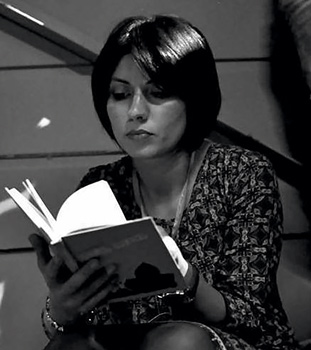 Eka Kevanishvili