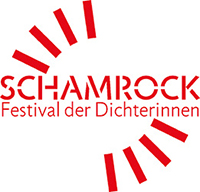 Internationale Poetry-Biennale - Filmfestival - Salon - Netzwerk
Yirgalem Fisseha Mebrahtu - ይርጋኣለም ፍስሃ
(Eritrea/München)
Freitag, 23. Oktober, 18.30 Uhr
live - whiteBOX München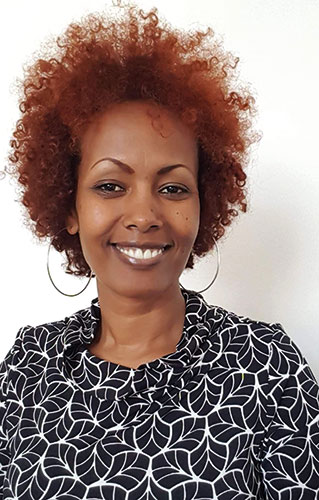 Schon in der Volksschule schrieb Yirgalem Fisseha Mebrahtu Gedichte. Sie arbeitete als unabhängige Journalistin für private und staatliche Medien und war Mitgründerin des Literaturvereins The Literary Club of Adi-keih. Nach dem Verbot privater Medien in Eritrea war sie fünf Jahre lang Programmdirektorin beim Radiosender Radio Bana des eritreischen Bildungsministeriums.
Am 9. Februar 2009 wurde sie mit ca. 30 weiteren Personen im Gebäude des Radiosenders verhaftet. Die ersten beiden Jahre verbrachte sie in Isolationshaft im Mai Swra-Gefängnis, wo sie auch gefoltert wurde. Nach sechs Jahren Haft ohne Anklage oder Gerichtsverfahren wurde sie 2015 entlassen. Beim zweiten Versuch gelang ihr die Flucht ins Ausland.
Seit Dezember 2018 lebt Yirgalem Fisseha Mebrahtu als Stipendiatin des Writers-in-Exile-Stipendiums des PEN-Zentrum Deutschland in München.2019 veröffentlichte sie ihre Gedichtsammlung Ich lebe noch in ihrer Muttersprache Tigrinya, deutsche und englische Übersetzungen sind in Vorbereitung.
Yirgalem Fisseha Mebrahtu was writing poetry already in elementary school. She contributed as an independent journalist for private and state media and was a co-founder of The Literary Club of Adi-keih. After the ban on private media in Eritrea, she was the producer and presenter for five years at the radio station Radio Bana of the Eritrean Ministry of Education.
On February 19, 2009, she and about 30 other people were arrested in the building of the radio station. She spent six years in Mai Swra Prison, where she was also tortured. Without charge or trial, she was released in 2015. On the second attempt, she managed to escape abroad.
Yirgalem Fisseha Mebrahtu has been living in Munich since December 2018 holding a Writers in Exile Scholarship of the PEN Center Germany. In 2019 she published her collection of poems I am still alive in her mother tongue Tigrinya, German and English translations are in preparation.
ገጣሚት ኣይኮንኩን
ግጥሚ እፈቱ'ምበር ገጣሚት ኣይኮንኩን
ገጣሚ አድንቕ ግን 'ገጣሚት'የ' ኣይበልኩን።
ኣነ ድኣ ትብዓተይ ቀቲለ
ሕልናይ ኣቝሲለ
ዓይነይ ዓሚተ እዝነይ ኣሚነ
ልብኻ ዓሚጽካ ምንባር ክኢለ፣
ንሓቂ ከይስየፍ ደኒነ 'ናኸድኩ
መቓብር ስምዒተይ ኰይነ 'ናሃለኹ
ተጋጊኺ`ለኺ ተጋጊኻ ኣለኻ
ኣነ ኣይኰንኩን እታ ትብላ ዘለኻ!
ከመይ ድዩ ገጣሚ!፧
ከመይ ድያ ገጣሚት!፧
ንህይወት ሽፋና ዘይኰነ ዕምቈታ
ልሳና ዘይኰነ ስምዒታ
ኣንቢቡ᎓ መርሚሩ᎓ መዝጊቡ
ሓቅን ፍቕርን᎓ ሕልናን ፍትሕን ኣዋሲቡ
ምእንቲ ጽባቐ ዝነብር ኣብ ገድሊ
ንልቡ ዘዳምጽ እኮ'ዩ ገጣሚ።
ጠበቓ ውጹዓት᎓ ልሳን ዝተዓብሱ
ትንፋሱ ከኽትት ዝሓጸየ ነብሱ
ብርዑ ዝጥዋፉ ስምዒቱ ሴፉ፣
እኮ'ዩ ገጣሚ ብርሃንን ቀንዴልን
ዘይነብሮ መዓርግ ኣነ ኣይቅበልን
ክኸውን'ምበር ክመስል ኣይደልን!

I am not a Poet
I love poetry, but I am not a poet
poets fascinate me
But I never said, 'I am a poet':
because I have sabotaged my courage,
wounded my conscience,
closed my eyes, trusting my ears,
learned how to live, deceiving my heart.
Because I refused to sacrifice for truth,
I walk down cast.
I have become the grave of my emotions.
Sir, Madam, you are wrong!
I am not who you say I am.
What is a mere poet!?
What is a mere poetess!?
Life's surface is not its true depth
The tongue is not the emotion.
Having read, examined, and documented
truth, love, conscience, and justice combined
the poet abides in struggle, listens to his heart
for the sake of beauty
advocates for the muzzled, oppressed
his gasp as self-sabotaging payment.
The pen is his candle, emotion his sword
the poet is the light and the candle
I cannot accept an honor that I cannot uphold--
I do not simply want to be but to act.
ትጽሕፍዶ'ሎኻ፧
ትጽሕፍዶ 'ሎኻ ትሕንጥጥ ትጭሕግር
ብዘይ ድምጺ ትንድር ትምድር!
ትጽሕፍዶ 'ሎኻ፧
ንዕምቈት ስምዒት
ለዊስካ ብንብዓት!
ምስ ሃፈጽታኡ ምስ ምቘቱ
ኣብ እዋኑ ኣብ ሰዓቱ፡
ሓቂ ተሳሒጋ፡ ፍትሒ 'ናተጨውየት
ሓልዮት ተረጊጻ፡ ፍቕሪ እና'እወየት፡
ነገራት ስኢኑ ቀይዲ
ጐፍ ምስ በለካ ኣብ መገዲ፣
ከም ሰብካዶ እዝንኻ ትውትፍ
ብቓንዛን ጫውጫውታን ነፊጽካ ትሃትፍ
ወይስ ርግእ ኢልካ ትዕዘብ ትጽሕፍ፧
ነቲ ሓሶቶም ሓቂ፡ ነቲ ሓቅኻ ሓሶት
ምስሉይነቶም ክብሪ፡ ትብዓትካ ድማ ሞት።
እናበልዎኸ ከመይ 'ልካ ክትሓልፎ
ብደውካ ኣብ ቅድሜኻ እንከሎ መሕልፎ
ትጽሕፎ'ምበር ከመይ ዘይትጽሕፎ፧!
ጽሓፍ በል ሓንጥጥ ኣፈልፍሎ
ወረቐትስ ካበይ፡ ኣብ ኣእምሮ
ጽሓፎ'ሞ ኣብ ጽቡቕ ኣንብሮ '
ንፋስ' ኣብ ዘይረኽቦ 'ውሑጅ' ኣብ
ዘይፍሕሮ ንግዜኡ ኣብ ልቢ ቅበሮ!
Are You Writing?
Are you writing, sketching and scribbling,
Silently roaring and arguing?
Engraving your deep emotions
with a dough of tears!
That give off steam and heat
there and then
When truth battles to speak,
and justice is hijacked
compassion is trampled,
and love screams
when the center cannot hold
and anarchy is loose
do you shudder away by the pain and noise?
Or do you withhold, observe,
and stay and write?
Their lie is called truth,
your truth falsehood
their bigotry is called honor,
your courage is paid in death.
How could you then not not-write--
while standing there and it is fleeting before you--
of course, you would write. How couldn't you!
Go then and write, let it flow.
But where is the paper?
just write it in the mind,
or conceal it in the heart for now The safe store,
where the wind cannot reach
and the flood cannot destroy.
ዓቕሊ ጽበት
ሸላይ ክንዲ ቍመተይ
ምድራ ክንዲ ዓራተይ።
ኣየራ ብቝንጣሮ ምቘታ ከም ጸበል
ውሻጠኣ ገሃነም ማዕጾኣ ኣፍ ገበል።
ሎምስ መሪሩኒ ክጾራ ኣይከኣልኩን
ሰብ ገዲፉ ዋላ ሰይጣን ይዅን፡
' ንዕናይ' ተዝብለኒ፡ 'ናበይ፧' ኣይምበልኩን።
Die Gefängniszelle passt zu meinen Körpermaßen
Der Lehmfußboden ersetzt mein Bett.
Ich ersticke fast, jeder Sonnenstrahl, jeder Lufthauch ist Medizin
Die Zelle eine Hölle, ihre Tür ein Schlangenmaul
Ich halt' es nicht mehr aus
Selbst wenn der Teufel fragt "kommst Du mit"?
Ich würde folgen egal wohin
aus: I am Here, Sweden: Emkulu Publishers, 2019
Übersetzungen/translations english: Ghirmai Negash
Übersetzung/translation deutsch: Kalle Aldis Laar