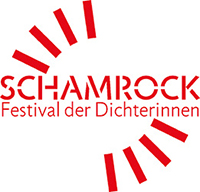 Internationale Poetry-Biennale - Filmfestival - Salon - Netzwerk
---

Auch Spanien musste seinen Auftritt als Gastland bei der Frankfurter Buchmesse Coronabedingt verschieben, auf dieses Jahr (und Slowenien auf 2023, siehe unseren Schwerpunkt dazu).
Mehrmals waren Dichterinnen aus verschiedenen Sprachregionen Spaniens beim Schamrock-Festival: 2020 gab es einen Schwerpunkt zu Katalonien, und bereits 2014 eine Veranstaltung mit Lyrikerinnen aus Galizien.
Diesmal besuchen uns zwei Dichterinnen aus dem Süden Spaniens, aus Granada, zusammen mit der Dichterin und Verlegerin Geraldine Gutiérrez-Wienken, die den Schwerpunkt co-kuratiert hat, sie hat auch die Übersetzungen der beiden Spanierinnen im Hochroth Verlag herausgegeben. Sie ist mit ihrer eigenen Lyrik vertreten und wird den Schwerpunkt moderieren.
www.hochroth.de/6537/olalla-castro
www.hochroth.de/8064/monica-frances
Spain also had to postpone its appearance as guest country at the Frankfurt Book Fair due to Corona until this year (and Slovenia until 2023, see our focus there).
Poets from different language regions of Spain have been to the Schamrock Festival several times: in 2020 there was a focus on Catalonia, and in 2014 we had an event with poets from Galicia.
This time we are visited by two poets from southern Spain, from Granada, together with the poet and publisher Geraldine Gutiérrez-Wienken, who co-curated the focus, she also edited the translations of the two Spaniards at Hochroth Verlag. She is represented with her own poetry and will present the focus.
Mit freundicher Unterstützung durch / kindly supported by