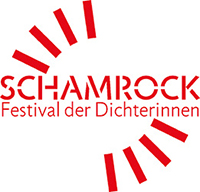 Internationale Poetry-Biennale - Filmfestival - Salon - Netzwerk
___Festival 2018________Europe_Inside_/_Outside________Wien 24_10 | München 26-28_10
Abbie Conant
(USA/Trossingen)
Sonntag, 28. Oktober, 20.30 Uhr
whiteBOX München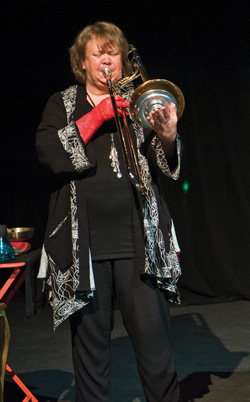 Abbie Conant vollendete ihre Ausbildung u.a. an der berühmten Juilliard School New York und der Kölner Hochschule für Musik. Das International Trombone Journal sieht Abbie Conant "in der ersten Reihe der weltbesten Posaunisten".
1980 wurde sie in einer Blind Audition Soloposaunistin der Münchner Philharmoniker. Allerdings meinte Chefdirigent Sergiu Celibidache wenig später "wir brauchen einen Mann für die Solo-Posaune". Daraufhin wurde Conant unter fadenscheinigen Gründen zurück gestuft, ließ sich diese Behandlung aber nicht gefallen und bekam in einem langen Rechtsstreit Recht.
Seit 1992 ist sie Professorin für Posaune an der renommierten Hochschule für Musik Trossingen. Sie hat eine international beachtete CD mit Posaunen- und Orgelmusik eingespielt und ist Gründungsmitglied von 'The Wasteland Company'.
Abbie Conant resumed her musical education at the famous New Your Juilliard School, and he Cologne Hochschule für Musik. The International Trombone Journal puts Abbie Conant "in the first row of the world's leading trombone players".
1980, in a blind aufdition, she gained first trombone chair at the Munich Münchner Philharmonic. However, ten conductor-in-chief, Sergiu Celibidache, let her know shortly afterwards that "we need a man for solo trombone". Conant was downgraded on dubious grounds, but did not accept being treated like that, went to court and won, after years of legal dispute.
Since 1992 she is Professor for trombone at the an der renowned music highschool in Trossingen, Germany. She recorded an internationally well-received CD with music for Trombone and organ, and is a founding member of the performance group 'The Wasteland Company'.