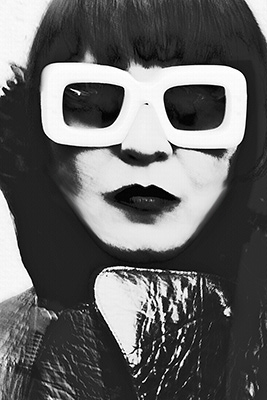 Liāna Langa (Lettland)
*1960 in Rīga. Studium am philologischen Institut der lettischen staatlichen Universität und am New School College in New York. Übersetzerin aus dem Russischen und Englischen.
Derzeit leitet sie den Verlag Apostrofs. Mitglied des Editorenteams der literarischen Zeitschrift" Latvju Teksti". Ihre Lyrik wurde vielfach in Lettland ausgezeichnet.
Veröffentlichungen zuletzt: Vilkogas (Tödliche Nachtschatten), Riga 2010 und Die Unzugehörigen (Bezpiederīgie), Hochroth, Riga 2013.
Born in 1960 in Riga, poet Liāna Langa has worked for the international film forum Arsenal and as a translator from Russian and English.
She is currently the manager of the publishing house Apostrofs and a member of the editorial team of the literary magazine Latvju Teksti (Latvian Writings). Liana has received the Poetry Day Award in 1998 and 2006, as well as the Annual Award in Literature in 2001.
Liāna Langa is the author of four books of poetry: Now the Sky, Now the Hour Hand (1997), Blow the Trumpet, Scorpion! (2001), The Diary of Aerials (2006), The Deadly Nightshades (2010), as well as a collection of travel essays entitled I Did Not Have To Hurry (2008).
Bezpiederīgie (1.)
Es pēkšņi atmodos no dziļa miega.
Starp krūmiem mežā mana ēna klīda.
Pie miglas trauka piekļāvuši purnus,
simttūkstoš gadi valgmi kāri zīda.

Kā liela, slapja zaļās tējas lapa
man acīs debess iepeldēja, šaurums
to nebiedēja. Zvaigžņu kuģi
pie manis pieglaudās, pie vraka.

Es nezināju, ko man zvēri teiks,
un nesapratu, kādēļ viesi klusē.
Es biju tava atslēga, jauns vīns,
ko dievbijīgie melnās mucās spundē.

Kad tumsa transā dvesmoja un šķīda,
man vaibstos metot atblāzmas no citām,
vēl citām pagājībām, citām dzīvēm,
tad manī liela daļa manis mira.

Es pēkšņi atmodos no dziļa miega,
man sejā tavi krusas graudi koda.
Kāds pūces valodā man blakus teica dievs,
un bija tukša, tukša tava roka.
aus/from: Antenu burtnīca, Rīga, Neputns, 2006
Die Unzugehörigen (1.)
Ich fuhr empor aus tiefem Schlaf.
Im Waldgesträuch mein Schatten irrend.
Die Mäuler fest am Krug des Nebels
durch hunderttausend Jahre sogen gierig Feuchte.

Wie ein großes, nasses Blatt grünen Tees
schwamm der Himmel in meine Augen, die Enge
ängstigte ihn nicht. Sternenschiffe
schmiegten sich an mich, das Wrack.

Ich wusste nicht, was mir die Tiere sagen würden
und nicht, weshalb die Gäste schweigen.
Ich war dein Schlüssel, junger Wein,
den Gottesfurcht in schwarze Fässer sperrt.

Als Dunkelheit in Trance verhauchte,
in meine Züge Widerschein von anderen
noch anderen Vergangenen, andren Leben werfend,
erstarb ein weiter Teil von mir.

Ich fuhr empor aus tiefem Schlaf,
die Körner deines Hagels bissen mein Gesicht.
Neben mir wer sagte in der Eulensprache Gott,
und leer war sie, leer deine Hand.
Übersetzung: Kristaps Grasis. Die Unzugehörigen. Hochroth Verlag, 2013
The Ones Who Don't Belong (1.)
I wake suddenly from deep sleep.
In the forest's undergrowth my shadow roams.
Hundred-thousand-year greedy muzzles suck
moisture clinging to a vessel of mist.

Like a large wet green tea leaf
the sky swims into my eyes – the narrows
do not frighten it. Star ships
nestle close to me, the wreck.

I don't know what the beasts will tell me,
don't understand why my visitors are silent.
I was your key, the new wine
that the devout locked away in dark barrels.

In a trance the dark breathes, dissolves,
casts in my features other reflections
of other bygones, other lives
and then inside a large part of me dies.

I suddenly wake from a deep sleep
as the grains of your hail erode my face.
Someone in an owl's voice says: God
but your hand is empty, empty.
Translated by: Margita Gailītis
Bezpiederīgie (5.)


Mazdārziņa karaliene iekāpj vilcienā Aizkraukle - Rīga.
Viņai kājās gumijnieki, sirmas ūsas ap sačervelētām lūpām.
Viņai maisiņā gurķi, mazdārziņa karaliene ir nogurusi.
Bet viņai maisīņā pašas audzēti gurķi, lieliska šķirne.
Vai tik es neatstāju grābekli starp dobēm, viņa domā.
Acis vēl dziļāk iegulst dobumos, kad viņa domā.
Kaimiņu suns bieži ienāk viņas dārziņā nokārtot darīšanas
un izbradā asteres, reizēm zemeņu stādus.
Vilciena vagons nav pilns. Tā nobružātība kaut kā piestāv
viņas gumijniekiem, sasvīdušajiem kāju pirkstiem tajos.
Mazdārziņa karaliene pēkšņi saprot, ka vagons un zābaki
ir viens un tas pats. Viņas kāju pirksti ir vilciena pasažieri.
Galvenais tas, ka vagonā viss ir ļoti tīrs.
Viņa nekad nav sapratusi, ko nozīmē vārdi nervi un pedikīrs.
Šmaugi bērzi paskrien garām vagona logiem.
Mazdārziņa karaliene ievēro studentu netālu sēžam.
Klēpī tam grāmata. Puisis ir labi ģērbies, viņš snauž.
Stacija Gaisma ar savām ogļu kaudzēm paskrien garām.
Mazdārziņa karalienes acis izlien no dobumiem kā vāveres bērni.
Dzīvnieciņi apžilbst no pārlieku lielās gaismas.
Tomēr veča turpina lūkoties uz studentu,
kurš viņai atgādina reiz satiktu Stepanu.
Stepans, jauns karavīrs, viņai iemācīja trīs tūkstoš
vai vairāk skūpsta variāciju mežā pēc ballītes.
Viņa atceras Stepana skūpstu bezgalīgumu.
Bezgalīgums garšoja pēc zābaku smēres un kazarmu paikas.
Bija vasara, dienas līdzīgas šai: zaļa, smaržīga tume visapkārt,
bet naktis caurspīdīgas kā melna kaprona zeķe.
Mazdārziņa karalienes lūpas sakustas.
Krampji kāju pirkstos pret labvēli likteni saceļas.
Die Unzugehörigen (5.)

Die Kleingartenkönigin besteigt den Zug Aizkraukle – Riga.
Gummistiefel an den Füßen, einen weißen Schnurrbart um die
zerknitterten Lippen.
In der Tüte Gurken, die Kleingartenkönigin ist müde.
In der Tüte jedoch selbstgezüchtete Gurken, eine prächtige Sorte.
Hab ich vielleicht die Harke zwischen den Beeten liegenlassen, denkt sie.
Die Augen noch tiefer in den Augenhöhlen, wenn sie denkt.
Der Nachbarshund kommt oft in den Garten, sein Geschäft zu erledigen,
er zertrampelt die Astern und dann und wann die Erdbeerstauden.
Das Abteil ist nicht voll. Seine abgewetzte Schäbigkeit verhält sich
irgendwie zu
ihren Gummistiefeln, zu den verschwitzen Zehen darin.
Die Kleingartenkönigin versteht plötzlich, dass Abteil und Stiefel
ein und dasselbe sind. Ihre Zehen sind die Passagiere des Zuges.
Hauptsache, im Abteil ist alles ganz sauber.
Sie hat nie verstanden, was das Wort Nerven bedeutet oder Pediküre.
Schlanke Birken eilen an den Abteilfenstern vorbei.
Die Kleingartenkönigin bemerkt unweit einen Studenten sitzen.
Auf dem Schoß hat der ein Buch. Der Junge ist gut gekleidet, er döst.
Der Bahnhof Gaisma mit seinen Kohlehaufen zieht vorbei.
Die Augen der Kleingartenkönigin lugen aus ihren Höhlen wie
Eichhörnchenjunge.
Kleine Tiere geblendet von zu starkem Licht.
Doch starrt die Alte weiter auf den Studenten,
der sie erinnert an einen einst gekannten Stepan.
Stepan, ein junger Soldat, brachte ihr dreitausend Varianten
oder mehr des Küssens bei, im Wald nach der Feier.
Sie erinnert sich an die Unendlichkeit der Küsse Stepans.
Die Unendlichkeit schmeckte nach Stiefelwichse und Kasernenfraß.
Es war Sommer, Tage ähnlich diesem: grüner, duftender Brei ringsum,
die Nächte aber durchsichtig wie schwarze Nylons.
Die Lippen der Kleingartenkönigin bewegen sich.
Krämpfe in den Zehen stemmen sich gegen das wohlmeinende Schicksal.
The Ones Who Don't Belong (5.)

A roadside garden queen boards the train Aizkraukle – Riga.
She's wearing rubber boots, a grey moustache
above a chapped mouth.
Carrying a bagful of cucumbers, the roadside garden queen
is exhausted but in her bag are her own grown cucumbers,
a splendid variety.
"Could I have left the rake between the garden rows?" She worries.
Her eyes sink deeper into their hollows as she tries to remember.
The neighbour's dog often comes into her garden to do his business
and, in doing so, tramples her asters, now and then,
the strawberry plants.
The train wagon is not full. Its bedraggled state somehow suits
her rubber boots and sweaty toes shoved in them.
The roadside garden queen suddenly knows that the wagon
and her boots are one and the same. Her legs are
the train's passengers.
The most important thing is that the wagon is very clean.
She has never understood what the words 'nerves'
and 'pedicure' mean.
Slender birches race past the wagon windows.
The roadside garden queen notices a student sitting nearby.
In his lap a book. The boy, well-dressed, is catnapping.
The station Gaisma with its piles of coal races by.
The roadside garden queen's eyes crawl out of their hollows
like a squirrel's offspring, beasties dazzled by too much light.
But the old woman continues to gaze at the student
who reminds her of Stephan once-met.
Stephan, a young soldier, taught her three thousand
or so variations of kisses in the woods after a dance.
She recalls the infinity of Stephan's kisses.
Infinity, which tasted of boot black and barrack fare.
The summer days then were much like today: a green,
fragrant gruel, but nights transparent like a black nylon stocking.
The roadside garden queen's lips move.
Cramps in her toes protest against benevolent fate.