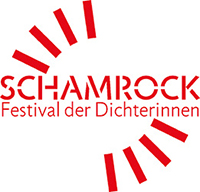 Internationale Poetry-Biennale - Filmfestival - Salon - Netzwerk
___Festival 2016________________________________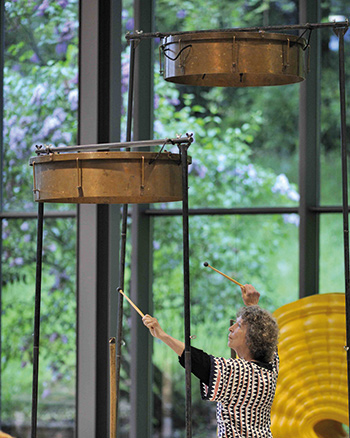 Limpe Fuchs (D) - Klangkunst
Seit Jahrzehnten gehört Limpe Fuchs zu den phantasievollsten Klangkünstlerinnen der internationalen experimentellen Musikszene. Vielfach ist sie mit selbstgebauten Instrumenten von skulpturaler Kraft hervorgetreten, hat in grenzüberschreitenden Performances mit Musikern wie Friedrich Gulda oder Albert Mangelsdorff zusammengearbeitet. Sie verfügt über eine selten wache Sensibilität für prozessuale und überraschende Interaktionen und spontane Klanggeräusch Entfaltungen. ("Pianobody" 2007. B4 Klassik von Helmut Rohm)
Limpe Fuchs, *1941 in München, Statement:
Musik machen im Zeitfluss, mit Einfachheit und Emotion. Ich lasse mich ein auf die Resonanz des Aufführungsortes und entwickle dazu die musikalischen Ideen.
Die Fülle des Klangmaterials: Variable Holz - und Steinreihen, klingende Bronze in den Pendelsaiten, und die Vielfalt meiner Instrumente – Fell- und Bronzetrommeln, Violine, Piano, Spinett, Harmonium, Holzhorn, Bambusflöte – gibt mir die Möglichkeit, für jede Aufführung die richtige Auswahl zu treffen.
Dazu kommt der instrumentale Dialog mit anderen Musikern und Musikerinnen. In der freien Improvisation werden neue Möglichkeiten entdeckt, durch Emotionen entstehen neue musikalische Äußerungen, die im musikalischen Gedächtnis gespeichert werden. Dieses Gedächtnis ist der eigentliche Schatz. Jedes Spiel zählt und bereichert es– im Gegensatz zur Übungssituation des interpretierenden Musikers, der auf dem Weg zur Perfektion jede unperfekte Interpretation in seinen imaginären musikalischen Papierkorb entsorgen muss.
Ich bin auf der Suche nach dem Klang, die Limpe Fuchs hat ihn schon gefunden (Helmut Lachenmann).
Derzeitige Formationen u.a.
occhio quartet, mit Hans Wolf p, Elmar Guantes b, Zoro Babel d, elektronik
Out of Peterskirchen, mit Werner Klausnitzer p, Michael Ross fl, Peter Holzapfel tb
Trees of Sound, mit Carole Meier vn,v, Martin von Allmen perc, Bronzetrommeln
www.limpefuchs.de
Diskografie: www.discogs.com/artist/149789-Limpe-Fuchs
2015 Das Berliner Plattenlabel Play Loud! Productions veröffentlicht den gesamten Katalog von Anima und Limpe Fuchs in Form des "Limpe Fuchs Archive"
Klänge aus Steinen. Musikerin Limpe Fuchs. Bayrischer Rundfunk Fernsehen 2016, Mediathek
Samstag / Sat 29.10. - 21, Performance Limpe Fuchs mit bTina Raithel, Gundis Stalleicher, Caspar Lesjak
Sonntag / Sun 30.10. - 20.30, mit / with Kunst oder Unfall und Dine Doneff
For decades Limpe Fuchs has been one of the most imaginative sound artists of the international experimental music scene. Often she surprised with self-made instruments of sculptural power, crossed borders in performances with musicians like Friedrich Gulda or Albert Mangelsdorff . She has a rare alertness and sensibility concerning procedural and unexpected interactions and spontaneous sound developments. ("Pianobody" 2007. B4 Radio by Helmut Rohm)
Limpe Fuchs, *1941 in Munich, Statement:
Making music while listening to the streaming of time. Simplicity and emotion. While listening to the resonance of the performance space, developing musical ideas and a directing concept.
My sound material – wood and granite stone rows, ringing bronze within the ballast string instruments – and the variety of my other instruments - drums with skin or bronze drumhead, violin, piano,, wood horn, bamboo flute – gives me many possibilities to choose the right material for every performance.
When improvising with other musicians new ways of playing are found, created through new emotions, which are stored in the musical memory It is a treasure that is growing with every performance - in contrary to the interpreting musician, who has to provide his imaginary musical paper basket on his way to perfection.
I am trying to find the sound - Limpe Fuchs has found already (composer Helmut Lachenmann).
selected current formations:
occhio quartet
Hans Wolf Piano Elmar Guantes contrabass Zoro Babel drums electronic Limpe Fuchs percussion Viola
Out of Peterskirchen
Werner Klausnitzer piano Michael Ross transverse flute Peter Holzapfel trombone Limpe Fuchs percussion viola voice
Triolog
HörSpiel Theater Linde Mötz figures players: Beyer Eckenberger Fuchs Raithel Stalleicher musicians Michael Ross Pit Holzapfel Limpe Fuchs
animare
Gisela Oberbeck shadow images Limpe Fuchs pendular string lithophone drums wooden horn viola voice