MO 20.10.
19 UHR
---
---
SO 26.10.
18 UHR
Anja Golob (SLO)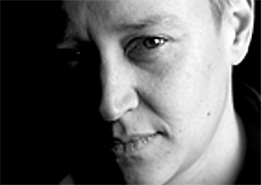 *1976, studierte Philosophie und Komparativistik in Ljubljana. Sie ist Autorin, Journalistin und Tanz-Dramaturgin.
Sie schrieb Theaterkritiken und veröffentlicht Fachartikel in Zeitschriften.
2010 erschien ihr erster Gedichtband "V roki (In der Hand)", 2013 der zweite "Vesa v zgibi (Hang in der Armbeuge)".
Anja Golob ist Chefredakteurin und Mitbegründerin des Verlags VigeVageKnjige; sie lebtzwischen Ljubljana, Brüssel und London.
neben dir der Körper schläft und sieht nicht,
wie sie draußen lauert, an die Scheibe schlägt,
sich unter der Tür durchtastet,
aus dir heraussickert.

*1976, studied philosophy and comparative literature in Ljubljana. She is an author, journalist and dance dramaturge. She wrote theatre reviews and published articles in journals. 2010 her first volume of poetry "V roki (In the Hand)" was published, followed in 2013 by "Vesa v zgibi".
Anja Golob is editor and co-founder of the publishing house VigeVageKnjige; she lives in Ljubljana, Brussels and London.