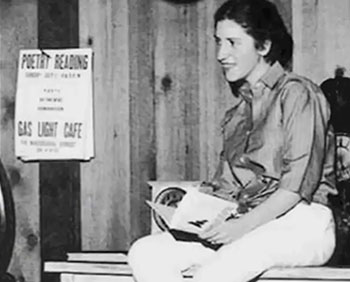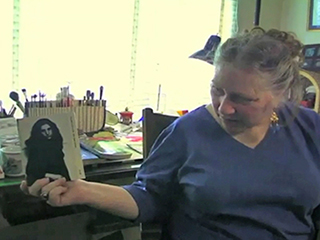 ©Women Make Movies New York
Sonntag, 26. März - 16 Uhr
THE POETRY DEAL: A FILM WITH DIANE DI PRIMA
USA, 2011, 27 min, Regie: Melanie La Rosa - Deutsche Erstaufführung
Der einzige Film über eine der vielen weiblichen Vertreter der Beat Poetry.
This film looks back on more than 50 years of poetry, activism, and cultural change, providing a unique women's perspective of the Beat movement. An impressionistic documentary about legendary poet Diane di Prima. The most well known female writer of the Beat Era, di Prima is fierce, funny, and philosophical, still actively writing in her late 70s in San Francisco. She is a pioneer who broke boundaries of class and gender to publish her writing.
It tells a story of rebellion and artistic integrity through the life of poet, prose writer, playwright, teacher and revolutionary activist Diane di Prima. Di Prima started writing at the age of seven and committed herself to a life of poetry at age fourteen. She ultimately became known as an important writer of the Beat movement, and has continued writing, publishing and teaching. She was made Poet Laureate of San Francisco in 2009.
Now in her 70s, in rare intimate interviews, Diane talks about her life and work in THE POETRY DEAL, a unique, beautiful portrait using rare archival material, visual poetry shot in Super8 and 16mm, and stories told by friends and colleagues to put di Prima's powerful writing on screen.
In the 1950s, well-known Beat writers such as Allen Ginsburg and William Burroughs upended the literary world, tTheir words started a literary tide that rippled out into broader social movements. Regarded as a handful of macho male renegades, the Beats also had groundbreaking women. But they were shockingly short on historical recognition.
When I talk about the film, most people say they did not know there were women among the Beat writers. Neither did I, until I found di Prima's 2001 memoir, "Recollections of My Life as a Woman". Floored, I wondered why I had never heard her story before. I started to look for a way to meet her ⇒ I Broke Filmmaking Rules to Capture Anarchist Poet: Melanie La Rosa über ihren Film.
Diane di Prima committed herself to life as a poet in high school and has produced more than 40 books of poetry and prose. In 2009, she was named Poet Laureate of San Francisco, where she lives.
⇒ THE POETRY DEAL - Women Make Movies - Trailer
---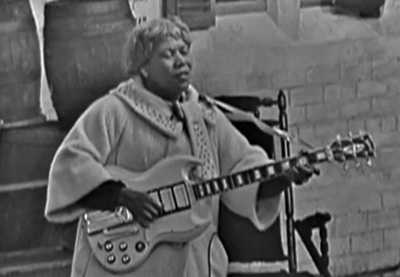 SISTER ROSETTA THARPE. THE GODMOTHER OF ROCK AND ROLL
USA 2013, 52 min, Regie: Mick Csaky
Sister Rosetta Tharpe was anything but ordinary and plain; she was a big, good-looking woman and divine, not to mention sublime and splendid. She was a powerful force of nature – a guitar-playing, singing evangelist. Bob Dylan
Despite not being a household name today, Sister Rosetta Tharpe is one of the most influential artists of the 20th century. Her flamboyance, skill, and showmanship on the newly electrified guitar played a vital role in the conception of Rock & Roll as a genre of music. Featuring archival performances and using new interviews with fellow musicians, producers, friends, and colleagues, this film tells the story of a talented and determined woman that introduces spiritual passion of her gospel music background into Rock & Roll.
Southern-born, Chicago-raised and New York-made, Sister Rosetta rose from poverty to become one of the world's most popular gospel singers and the first to cross over successfully into mainstream popular music. She introduced the spiritual passion of gospel into the secular world of rock 'n' roll, inspiring some of its greatest stars, including Chuck Berry, Elvis Presley, Jerry Lee Lewis, and Little Richard.
A natural-born performer and a rebel, "She could play the guitar like nobody else … nobody!" says Lottie Henry, a member of Tharpe's back-up vocal group The Rosettes. "Elvis loved Rosetta Tharpe," attests Gordon Stoker of The Jordanaires, who performed with both Sister Rosetta and Elvis. "Not only did he dig her guitar playing but he dug her singing too."
The child of poor cotton pickers, Sister Rosetta was born in Cotton Plant, Arkansas. At the age of six, she was taken by her evangelist mother Katie Bell to Chicago to join the Church of God in Christ, where she developed her distinctive performing style. In 1938, at the age of 23, she briefly left the church for show business, causing huge controversy when she performed songs laden with sexual innuendo in New York City venues such as the famed Cotton Club and Café Society, where she immediately became a favorite of both Cab Calloway and Duke Ellington. However, Sister Rosetta soon returned to her gospel roots and performed in packed churches and theaters throughout America and Europe, becoming one of America's most distinctive recording stars on radio and television during the 1940s, 1950s and 1960s.
⇒ THE GODMOTHER OF ROCK AND ROLL - Trailer
---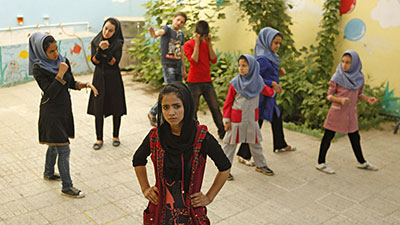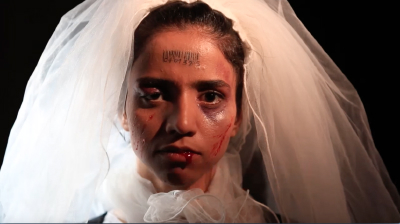 ©Realfiction Köln
Sonntag, 26. März - 18 Uhr
SONITA
D/ Iran/ CH, 2015, 91 min, Regie: Rokhsareh Ghaem Maghami
Als kleines Mädchen ist Sonita mit ihrer Familie vor den Taliban von Afghanistan in den Iran geflohen. Hier lebt sie seither ohne Rechte, offizielle Schulbildung oder Papiere und verdient mit Kinderarbeit Geld, um die Familie zu unterstützen.
Aber Sonita hat Talent und möchte Sängerin werden. Obwohl es in Iran verboten ist, als Solo Künstlerin zu singen, sucht sie in Teheran nach einem Studio, um ihren Song über Kinderarbeit aufzunehmen. Dabei wird die Dokumentarfilmerin Rokhsareh Ghaem Maghami auf Sonita aufmerksam und folgt ihr mit der Kamera, um ihre Lebensumstände und ihren Kampf um Selbstverwirklichung zu dokumentieren.
Sie folgt ihr in ihr spärliches Zuhause im Teheraner Ghetto, wo Sonita voller Zuversicht und positiver Energie ihr Ziel verfolgt: Eine berühmte Rapperin zu werden und ein Studio zu finden, dass trotz Verbot ihren Song aufzeichnet. Eine Sozialarbeiterin hilft ihr bei der Überwindung ihrer Fluchttraumata und Sonita singt auch den anderen Mädchen in der Einrichtung aus der Seele.
Doch nach und nach werden ihre Freundinnen als Bräute zurück nach Afghanistan verkauft. Und als Sonitas Bruder Geld für die eigene Hochzeit braucht, steht auch Sonita die Zwangsehe bevor. Die Familie plant, sie für 9000 $ an einen fremden Ehemann nach Afghanistan zu verkaufen und die Zeit drängt. Die Regisseurin wird so in ein Dilemma verwickelt: Darf sie in das Schicksal ihrer Protagonistin eingreifen und ihr helfen, die drohende Hochzeit zu verhindern? Schließlich bezahlt sie nach langem Ringen 2000 €, um Sonita vor der Ehe zu retten und von der Familie ein bisschen Zeit zu erkaufen.
Sie schaffte es, trotz Verbot einen Clip ihres eigenen Songs in einem Studio zu produzieren und auf youtube zu stellen. Dort bekommen der Song und Sonita eine weltweite Aufmerksamkeit, die das Leben von Sonita entscheidend verändern wird.
Ein furioser Aufruf gegen die Zwangsheirat und für die Selbstbestimmung muslimischer Frauen.
Großer Preis der Jury, Zuschauer Preis Sundance Film Festival 2016
Zuschauer Preis IDFA, Amsterdam 2016
Ein auf vielen Ebenen fesselnder und beunruhigender Dokumentarfilm, der eine Debatte unter Filmemachern auslösen sollte und die Sympathien vieler Zuschauer für sich gewinnen wird. Bemerkenswert ist vor allem die Komplexität und Geisteshaltung der beteiligten Frauen (...) ihre vereinte Stärke und Menschlichkeit sind tief berührend. Screen Daily
Regisseurin Rokhsareh Ghaem Maghami hat Regie und Animation an der Kunst Akademie in Teheran studiert. Ihre Forschung im Bereich der Animation hat sie in dem Buch "Animated Documentary, a New Way to Express" veröffentlicht. Sie hat sechs kurze Dokumentarfilme fertiggestellt und mehr als 20 internationale Preise gewonnen.
---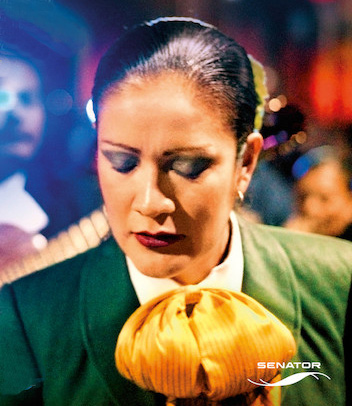 ©Senatorfilm München
Sonntag, 26. März - 20.30 Uhr
DIESES SCHÖNE SCHEISSLEBEN (Que caramba es la vida)
D 2014, 90 min, Regie: Doris Dörrie
Kraftvoll, laut und wunderbar: In ihrer Doku porträtiert Doris Dörrie Frauen, die in die Männerdomäne der Mariachi-Musik vorgestoßen sind. Ihre Unbeirrbarkeit fügt sich grandios ein in die mexikanische Kultur der Extreme. Süddeutsche Zeitung
Das Bild des musizierenden, Sombrero und Cowboystiefel tragenden Mariachi in engen Hosen gehört zu den populärsten Assoziationen mit der mexikanischen Kultur. Mariachi ist nicht nur Musik, sondern ein Lebensstil, der die Welt aus einer Macho-Perspektive zeigt. Das Business ist hart, und Frauen haben in dieser von Männern dominierten Welt nichts verloren. Trotzdem entscheiden sich einige Frauen für ein Leben als Mariachi. Eine von ihnen ist María del Carmen.
Vor dem Hintergrund des "Día de los Muertos", dem farbenfrohen und oft bizarren Totenfest, begleitet Regisseurin Doris Dörrie sie und ihre Musikerkolleginnen der "Estrellas de Jalisco und der "Las Pioneras" bei ihren Auftritten auf den Straßen von Mexiko-Stadt. Wenn die Mariachi-Frauen kräftig und laut über Tod, Liebe und Armut singen, erscheinen die schweren Dinge des Alltags leichter. Genau wie ihre Lieder, ist "Dieses schöne Scheißleben" eine liebevolle Momentaufnahme vom Leben, vom Tod und den Dingen dazwischen.
Eine musikalische Liebeserklärung an Mexico, die Stärke der Frauen und die Kraft der Musik
⇒ DIESES SCHÖNE SCHEISSLEBEN - Trailer
⇒ Süddeutsche Zeitung